Don't consider yourself lost at any point. We show you how you can easily get to our vacation home once you land in Costa Rica. We know that travelling to a new country and finding your destination can sometimes be a stressful time. We will try to provide you with all the information you need to make this more of a positive adventure than a negative experience. Please print the directions so you have them as a reference on your journey. A fully customizable printer friendly version is available by clicking the button below. We have never had anyone get lost. If you have any questions feel free to contact us.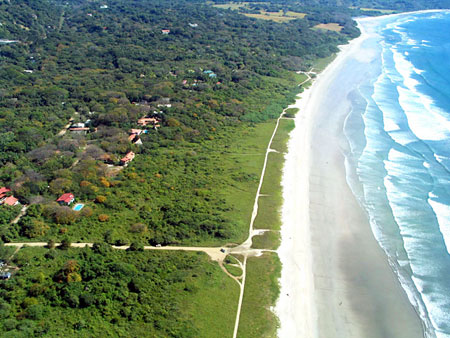 Villas Canadiense is located on the Pacific Ocean on the West coast of Costa Rica in the Nosara Project in the Nicoya District of Guanacaste Province. On the map, you will see Nicoya located on the Nicoya Peninsula. For those folks who sail or who can use a GPS receiver, the region is approximately 10 degrees above (i.e., North of) the Equator. To be a bit more precise, we are located at North 9 Degrees, 56 Minutes 40.0 Seconds and West 85 Degrees, 40 Minutes 3.5 Seconds more or less allowing for small shifts in the tectonic plates. This data courtesy of the President of Geodyssey Limited, John M. Russell and three GPS receivers, circa December 2004. Other referential locations include the following:
6 or so hour drive West from San Jose (Capital city of Costa Rica located approximately in the geometric centre of the country)
About a 2 hour drive South from Liberia (small international airport on West Coast in the north of Costa Rica near Nicaragua)
1 hour drive Southwest from Nicoya (largest town on the Nicoya Peninsula)
San Jose or Liberia are about a 6.5 hour flight South from Calgary
San Jose or Liberia are about a 2 hour flight South from Miami
Our condominium units are located within yards of Playas Guiones – a long, gently curving sand beach. We are near the center of the beach. The North and South ends of the beach feature rocky points of land, separating Playas Guiones from the next beaches. Hotel Playas de Nosara is located at the North end of the beach.
Driving Instructions – Liberia to Nosara
Liberia to Nicoya
The trip from Liberia to Villas Canadiense takes about two (2) hours (with no stops). Leaving the Liberia airport terminal, you will drive down a divided road with small trees and grass planted in the median. This median strip is irrigated and drained. Coming to a "T" intersection you will see one of the many ancient round stone spheres found in Costa Rica. This one has been donated by a local family and sits in the median right near the intersection. The stone object is about a meter in diameter (see the first photo on the Local History link on this web site). If you turn left, this will take you into Liberia. If you turn right, this will take you South on an interior paved highway to Santa Cruz and onto Nicoya. The Hilton Garden Inn is located straight ahead across the road as is Tricolor Car Rental.
The first leg of the drive from Liberia to Nicoya will take you about one hour (road signs indicate about 79 kilometers) and is on good quality paved road all the way. There are a couple of traffic lights along the road as you pass through the town of Santa Cruz. Watch for the changes in the speed zones along the way. Radar is a common tool for the traffic enforcement folks and there are lots of them – pay close attention to the speed zones marked in paint on the pavement.
Nicoya to Nosara Subdivision
The second leg will also take you about one hour for the approximately 58 kilometer trip from Nicoya to the Nosara Subdivision. Once you reach Nicoya, drive right through the town. There is only one stop light in front of the Nicoya Hospital in the centre of town. The hospital will be on your right and a large Pali grocery store will be on your left (both slightly elevated from the roadway). Please drive carefully through town as the road is somewhat congested with lots of stops, parking on both sides, cyclists, other vehicles and pedestrians. At the south end of Nicoya, you will cross a small bridge as you pass out of the town and after a couple of miles, be on the lookout for three sets of "Sleeping Policemen" or "Policia Morte" or large speed bumps right on the outskirts near a school. You will also find two more of these large speed bumps in the first small hamlet of Caimital where you will have to make a 90-degree turn to the right.
Travel south on paved highway in the foothills (very scenic) for about 30 kilometers (18.4 miles). At this point, you will drive up a small hill and drive along a ridge and you will see a regular-sized CASTROL gas station on your left hand side (two pumps, a covered overhead roof for the pumps and a garage building in behind with a couple of repair bays, normal amount of parked vehicles, etc.). A few hundred yards past this gas station, the road has a paved exit to the right. If you stay left, it will take you south to the village of Samara on the paved main road down a hill. The right hand turn will take you west to Nosara. Unfortunately, the pavement to the right does not last long. At this stage the road to Nosara changes to gravel and you will go down a long, steep hill. Keep following this gravel road but please be careful and watch for the following
While Driving Watch For
Kids, Dogs, Chickens, Pigs, Cyclists, Pedestrians, Cattle, Dust, Other Vehicles, Washouts, Very narrow bridges.
The last stretch of road has improved tremendously in the past few years but it can still be best classified as a "work in progress". The local description is "If you think you are on the wrong road, you are on the right road!"
At approximately the 39-kilometer mark (or 23.8 miles), the road will split at a stop sign. You will make a right hand turn and continue towards Nosara. The road veering to the left will take you to Samara. You will be passing though a number of villages and hamlets and finally through the ocean front village of Garza. You will reach Garza at about the 46-kilometer (or 27.9 miles) mark from Nicoya. You can see the ocean on your left at this point. Garza is an interesting little place with scores of small fishing boats and an active fish market. Driving through Garza you will next reach the village of Esperanza. You are now only a couple of kilometres away. The next stop will be the Nosara Project subdivision.
Entering the Nosara Subdivision
You will see many signs advertising the local restaurants and accommodations as you enter our subdivision or project. The first likely recognizable property will be the Nosara Yoga Institute on your left. Next, you will encounter the Café de Paris also on your left hand side. On the hill on your right hand side you will see a real estate office and Marlin Bill's restaurant. Drive on a bit further (300meters) and take your next left. There is a restaurant sign "El Local" at the bottom of the road you will see La Negra and Nosara Beach House on your right. Villa Canadiense is on your left. 
Follow the arrow shown on the sign and this will take you down towards the beach and to Villas Canadiense. The road slopes gently for about two blocks. This exit will be at approximately 53 kilometres (32.2 miles)mark from Nicoya. Our oasis will be awaiting you on the left hand side just past Corky Carrol's Surf School (which is on the right hand side). We know that once you settle in at Villas Canadiense, you will not want to leave! Below is a picture of our main entrance to let you know what the front gate looks like and where you will park.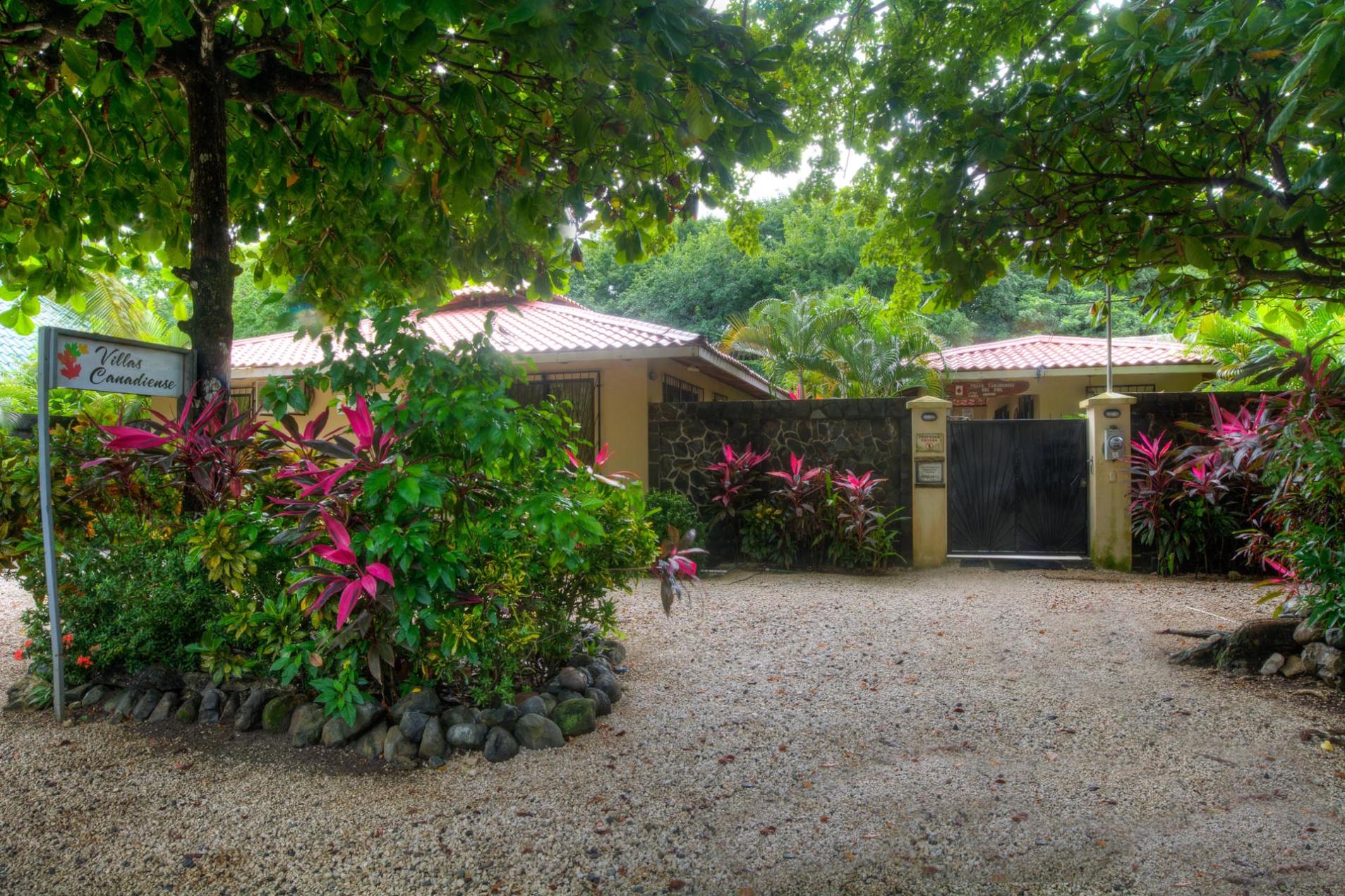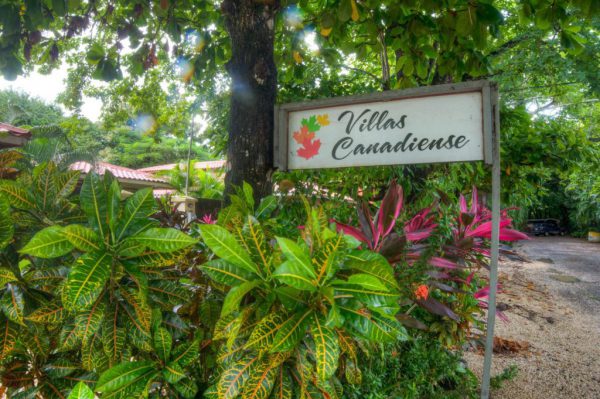 You can fly into Costa Rica to one of the two international airports. The larger airport (recently has undergone a major expansion (more gates, more retail, large arrival baggage facility, controlled access, etc.) is located in San Jose, the capital of the country. San Jose is located in the geographic centre of the country and is about a 6  hour drive from Villas Canadiense (we are located at North 9 degrees, 58 minutes, West 85 degrees 44 minutes if you are travelling via GPS receiver). The roads are paved except for the last 20 or so miles. You will find commercial traffic heavy but the trip is interesting and the roads are well marked.
If you fly into San Jose, you may want to take part of the first day and arrange your car rental, etc. If this is your first trip, we might suggest that you stay overnight near the airport. We like the Hampton Inn which is just beside of the airport property. They provide an airport shuttle service. The Hampton INN  is a major international chain of quality hotels. You can readily find them and book rooms by phone or the Internet. The phone number in San Jose, Costa Rica is 011-506-8443-0043. They have English service at the front desk, a pool, a small gift shop, shuttle services and an excellent continental breakfast.
There is also a great chicken restaurant right next door and several "typical" restaurants only a short couple of blocks north. If you choose to drive to Nosara from San Jose, the roads are well marked and the new bridge across the Gulf of Nicoya is now open. Financed by the Taiwanese goverment, this bridge bypasses the old ferryservice (used to be lots of fun but sometimes necessitated a bit of a wait). Plan your trip if you can to drive the last 20 miles in the daytime. If you have not driven this road before, it is best to drive it during daylight hours. Remember, the suncomes up around 6:00 am and goes down at 6:00 pm. Do not worry about food. You will find dozens and dozens of restaurants along the way where you can stop to eat. Below is a picture of the eastern entrance to the new (i.e., 2003) bridge.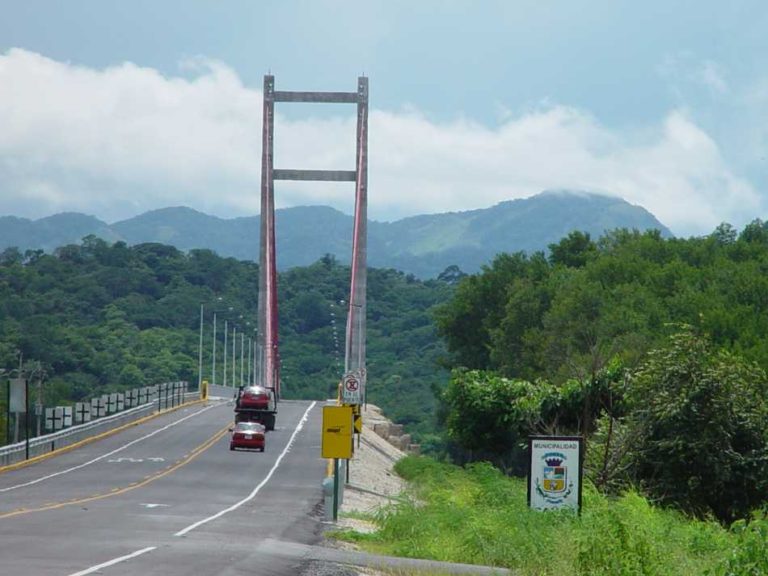 Flying into Nosara Village, Costa Rica
The Village of Nosara has a small airport that s used for commuter flights from San Jose and other regional airports throughout the country. The runway has recently been resurfaced and the site has also been refenced (to keep the cows, kids and dogs off the runway). We now even have a small "terminal building". This is actually only an open enclosure with a metal roof, benches and a dirt floor but we take each of these things as valued improvements.
The cost for one person one way from San Jose to Nosara is about $100 USD. You can make these short hop arrangements by contacting Nature Air or Sansa Airlines . Flying time is about 40 minutes and allows you to skip the 6 hours of driving from San Jose even if the scenery is delightful and interesting. Luggage weight is limited and if you have too much, there is a surcharge. Sometimes your bags might have to follow you via a different route. Some of the car agencies (for example, Alamo) will have a car waiting for you at the airport in Nosara for a small (about $50) drop charge. Following are a couple of  photos of our local airport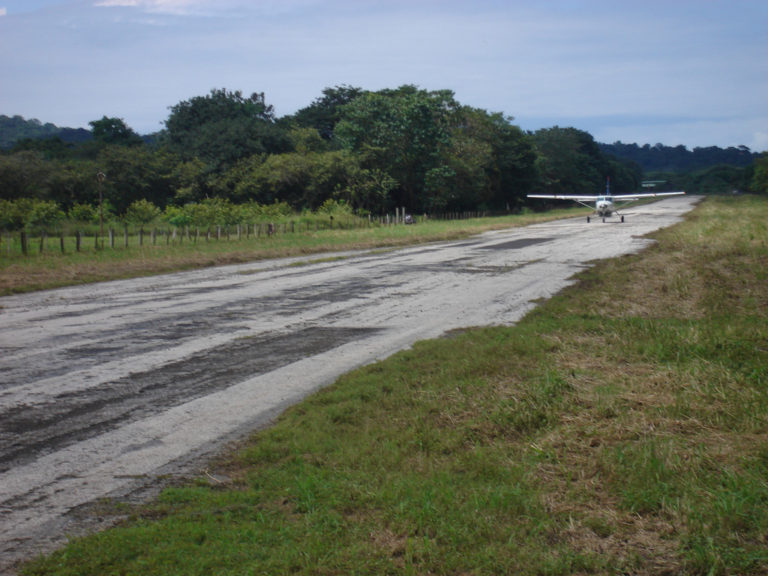 GPS Way Points from Nicoya to Villas Canadiense
We have captured a series of "way points" that will help you find your way to Villas Canadiense if you are GPS-equipped. Of course, lots of folks carry the small portable GPS units these days. Below is the latitude and longitude along with a brief description of the way point. If you are following these way points, they will guide right into our place. We start our journey in the town of Nicoya. You will be able to find this town readily on any Costa Rica roadmap.